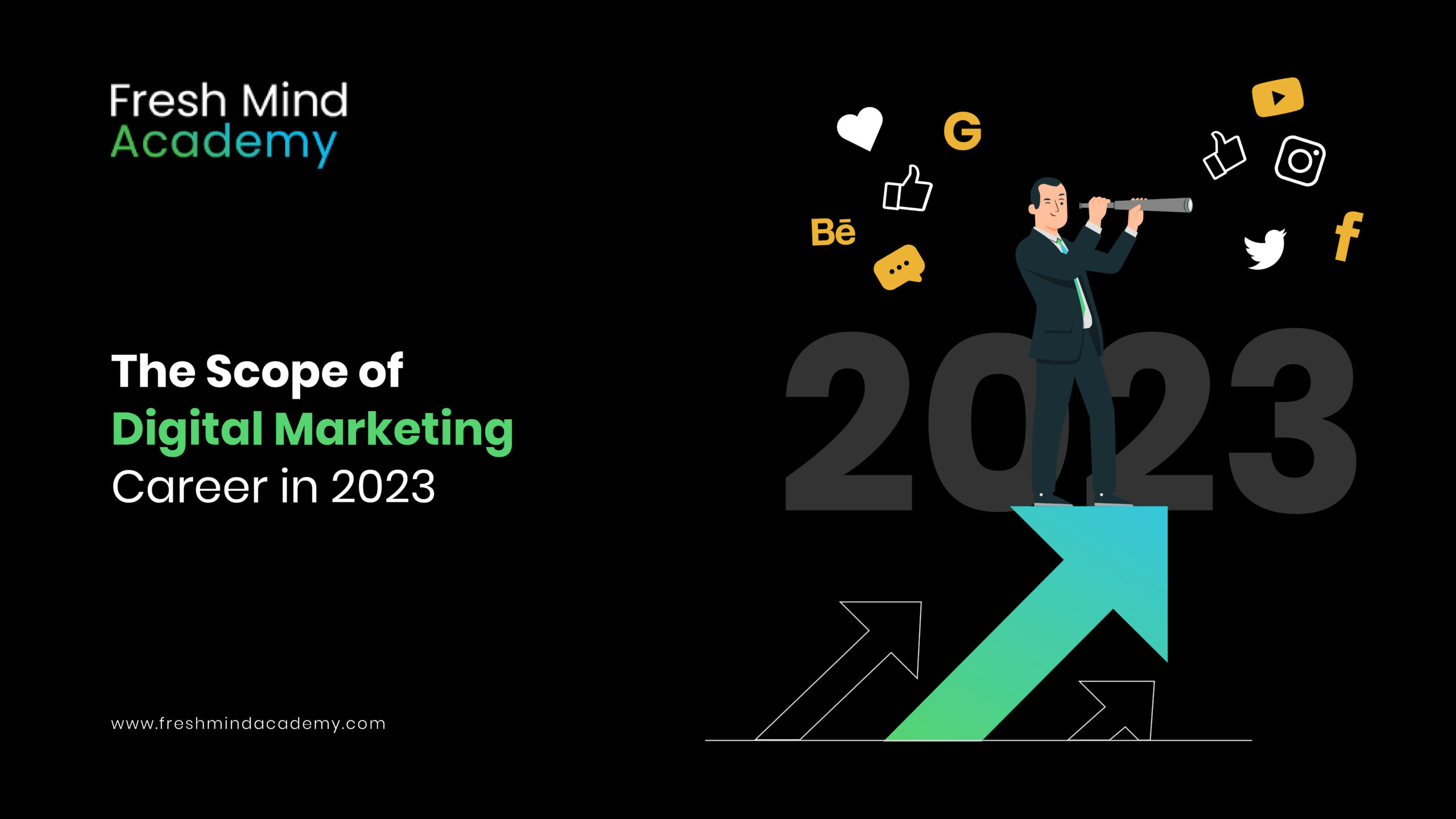 The Scope of Digital Marketing Career in 2023
If you are planning to pursue an online course from a digital marketing online training center, then you may be wondering about the scope of digital marketing in the digital era. There is no doubt that digital marketing has taken the world by storm and has become one of the fastest-growing industries in recent times. With the advent of technology and the increasing use of the internet, companies are shifting their focus from traditional marketing to digital marketing.
In India alone, the digital marketing career scope is projected to be worth $160 billion by 2025, according to a Goldman Sachs report. This is three times its current value, and the number multiplies at least by 3 times when it's considered on a global scale. This proves that digital marketing is a career that is not only here to stay but is also set to grow and flourish in the coming years. In this article, we will discuss the scope of a digital marketing career in 2023.
Rising Demand for Digital Marketing Professionals
Digital Marketing Usage Statistics (2022)
With 75% of the world's population using the internet, the scope of digital marketing is enormous. As of December 2022, more than 5 billion users access the internet, with 4.28 billion unique mobile users and 4.14 billion active social media users. This significant increase in internet usage from less than 1% of the world population in 1995 indicates the immense growth of digital marketing in recent years.
The increase in global internet users from 2018 to 2023
India has the potential to reach up to $100 billion in online e-commerce, according to the latest Google report. With a diverse customer base from various demographics and locations, there are tremendous growth prospects for digital sales. India has surpassed the USA in the total number of users, with the emergence of Reliance Jio, which has led to a great increase in internet users. This gives more scope for digital marketers to reach the target audience.
Increased use of social media platforms
Social media platforms have become an integral part of digital marketing, providing businesses with an opportunity to reach a vast audience through various channels. It is projected that the global social media user count will reach 4.41 billion by 2025. Hence, social media platforms are going to be a major platform for businesses to find potential customers and for that marketers would need to employ digital marketing strategies.
Targeting the Audience
Unlike traditional marketing strategies, digital marketing provides various customized and personalized methods to target the audience exclusively. It is possible to reach an audience by location, age, gender, education, interests, personal information, and many other advanced strategies to target a very specific audience.
High Paying Jobs
One of the biggest advantages of entering the digital marketing industry is the potential to bag high-paying jobs at top companies. Digital marketing professionals in India earn an average annual salary of Rs 4,00,000. As the candidate gains experience in the field, the salary hike can range between 25% to 75% annually, depending on the skill and technical ability of the candidate.
Most candidates with 2+ years of experience can get a salary between Rs 3,60,000 to Rs 6,00,000 per annum based on company norms. By acquiring digital marketing skills and certifications, experienced professionals can anticipate a salary increase of 20-30%. Hence, pursuing a digital marketing course from a digital marketing academy will surely land you a high pay job.
Career Opportunities in Digital Marketing
The digital marketing industry has been consistently growing over the past decade, and the trend is expected to continue. This growth has created a plethora of job opportunities for skilled digital marketers. With the increasing demand for digital marketing professionals, companies are offering attractive salaries and benefits to attract and retain top talent.
Taking up a professional course from a digital marketing institute can land you various specialized roles in the digital marketing field. Some of the job roles in digital marketing include: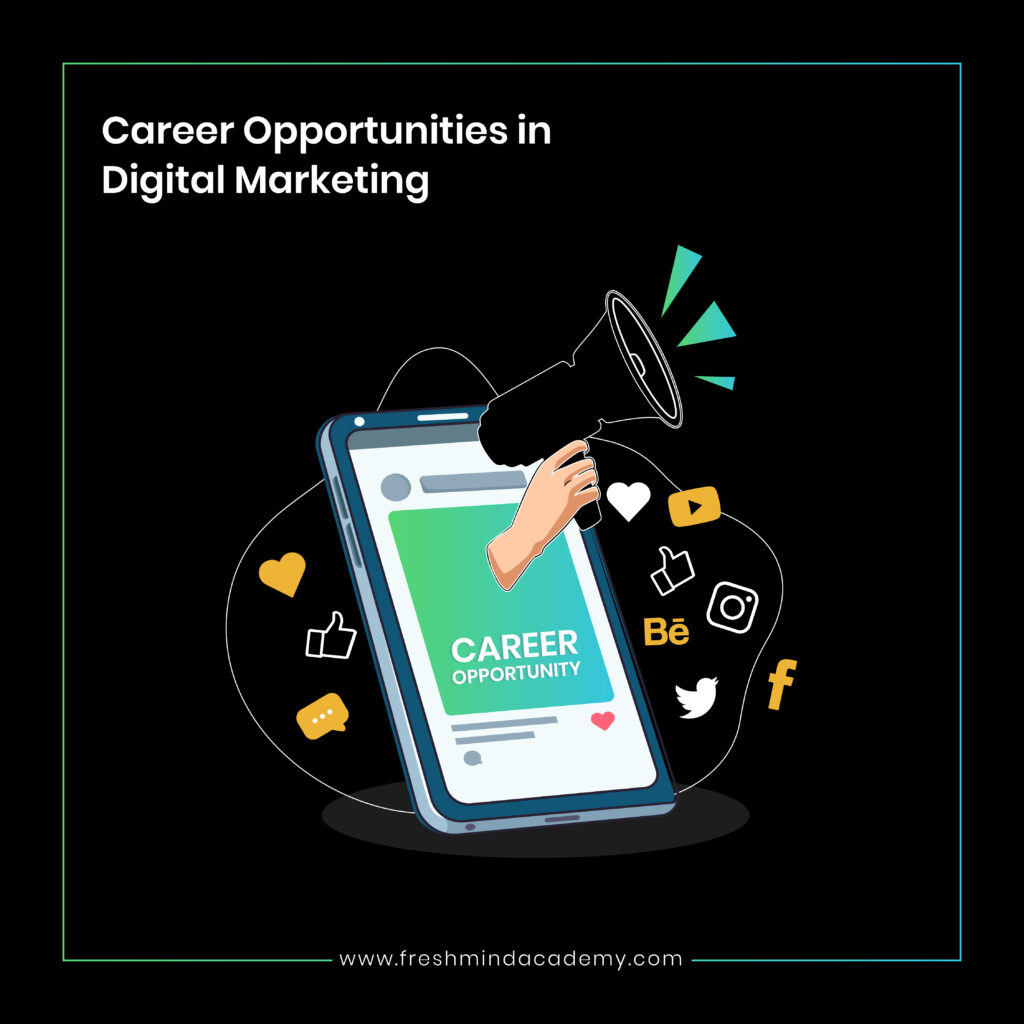 Search Engine Optimization (SEO) Specialist: SEO specialists are responsible for optimizing websites to rank higher on search engine result pages. They use various techniques to increase the visibility of a website on search engines such as Google, Bing, Yahoo, etc.
Social Media Manager: Social media managers are responsible for managing the social media accounts of companies. They create and manage content, engage with customers, and run social media ad campaigns.
Pay-Per-Click (PPC) Specialist: PPC specialists are responsible for running paid ad campaigns on various platforms such as Google Ads, Facebook Ads, Instagram Ads, etc. They use various strategies to optimize the ad campaigns for better ROI.
Content Marketer: Content marketers are responsible for creating and distributing high-quality content that attracts and engages the target audience. They create various types of content such as blog posts, articles, videos, infographics, etc.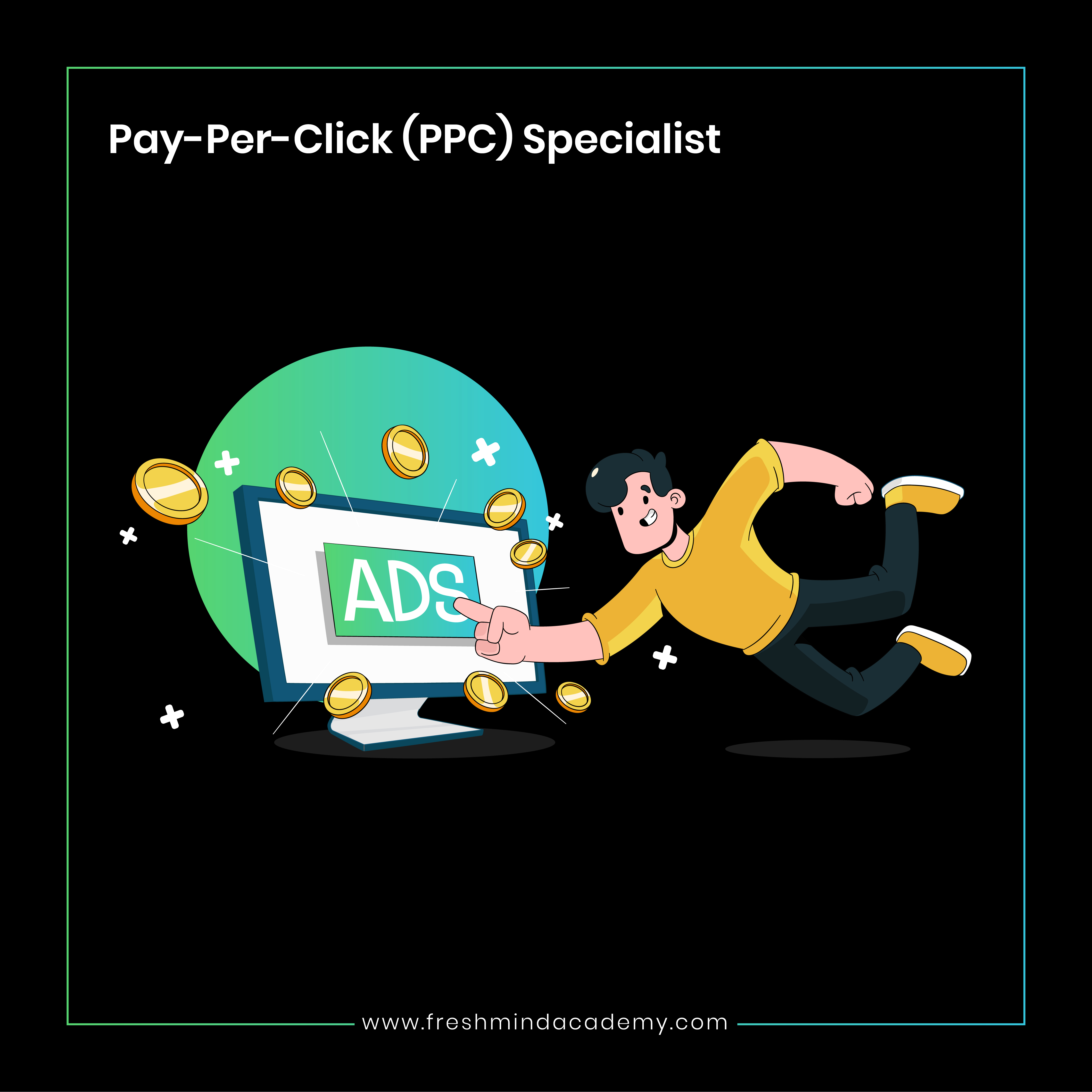 Email Marketer: Email marketers are responsible for creating and managing email campaigns. They use various email marketing tools to design and send emails to the target audience.
Digital Marketing Analyst: Digital marketing analysts are responsible for analyzing and interpreting data to optimize digital marketing campaigns. They use various analytics tools to track the performance of campaigns and make data-driven decisions.
The digital marketing industry has seen tremendous growth and transformation over the past few years. With the rising demand for digital marketing professionals, the industry is expected to continue growing at an accelerated pace in 2023 and beyond. The increasing focus on digital and technology skills in the job market, coupled with the ever-increasing penetration of the internet and social media, has created a huge demand for digital marketing professionals.
For those looking to pursue a career in digital marketing, it is highly recommended to start learning digital marketing skills and stay updated with the latest trends and practices. The future of digital marketing is bright and full of exciting opportunities for those who are willing to put in the effort and stay ahead of the curve.
If you are currently a working professional/ graduate/ entrepreneur, and you are currently looking for the best digital marketing training institute in Kerala that would offer you the best digital marketing course in Kerala, then you are at the right place. Fresh Mind Academy is the best digital marketing institute in Trivandrum where you would get to learn from digital marketing experts along with placement assistance.
Please do not hesitate to contact us at +91 628 200 3310 or courses@freshmindideas.com if you have any questions or concerns regarding the digital marketing course.