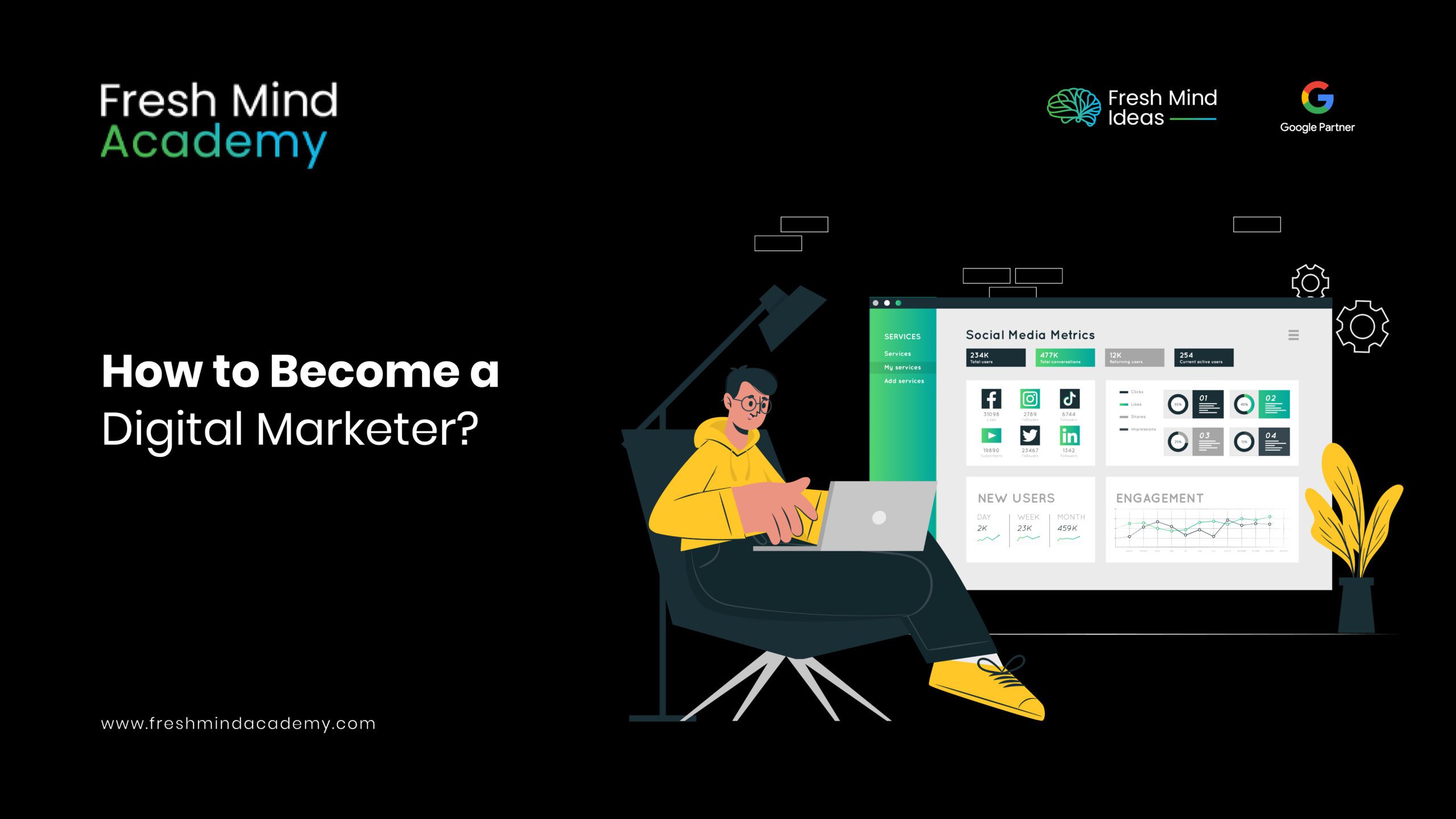 How to Become a Digital Marketer
In today's digital landscape, the success of businesses heavily relies on establishing a solid consumer base through effective online interactions with customers. As a result, there is an unprecedented demand for proficient digital marketers. You could be a new graduate, restarting your career, or transitioning from a different occupation. If you have a passion for marketing and wish to leverage your skills in curating compelling online content to promote brands, products, and services, a career in digital marketing may pique your interest. This comprehensive guide will walk you through the various steps to understanding the field of digital marketing, sharpening your skills, building a portfolio, and embarking on a successful career journey.
Digital Marketing – A Brief Overview
Digital marketing refers to using digital means (such as search engines, social media, email, mobile apps, websites, etc.) to promote a product, brand, or service. While on the web, you would have come across advertisements, perhaps on Google, on your favorite content creator's video, in a spam mail, or even through text messages. Though at first glance, such promotional messages look simple, there is a certain mastery in how a brand's image is optimized to create engagement and ensure that these messages reach its target audience.
A digital marketer would consider these components and other intricate factors, to create a cohesive strategy for their client, which will maximize the reach of their products or services and add more people to their clientele. In your journey to becoming a digital marketer, you must have a solid understanding of the digital marketing landscape and familiarize yourself with its key concepts. Given below are some steps to build your conceptual understanding of digital marketing.
1. Build a Strong Foundation
A strong foundation in marketing fundamentals is essential for becoming a successful digital marketer. An undergraduate degree in marketing, advertising, business, or communication would be ideal. However, if your academic discipline does not align with your current career interest, don't worry. As long as you have a strong portfolio emphasizing your strength and skill, you will not face a setback.
However, it would be beneficial to attend online courses, certifications, and workshops that focus on digital marketing. They are neither time-intensive nor expensive as a full-time course. They will equip you with an in-depth knowledge of foundational concepts in marketing and help you build practical experience. Here are some key concepts in digital marketing you should be familiar with:
a. Search Engine Optimization (SEO): SEO focuses on optimizing a website's visibility in search engine results pages by improving its ranking. It involves techniques such as keyword research, on-page optimization, link building, and content optimization.
b. Social Media Marketing: Social media marketing utilizes social platforms like Facebook, Instagram, Twitter, and LinkedIn to promote brands, engage with audiences, and build a strong online presence. It involves creating and sharing content, running targeted advertising campaigns, and fostering meaningful interactions with followers. Collaborating with influencers can also help expand brand reach, enhance credibility, and tap into their engaged follower base on social media platforms.
c. Pay-Per-Click Advertising (PPC): PPC advertising entails placing advertisements on search engines or social media platforms and paying only when a user clicks on them. PPC ads enable businesses to target specific keywords, demographics, and locations to drive targeted traffic and generate leads. This is also a great way for businesses to get accurate feedback on the efficiency of the advertisement as well as its placement online.
d. Email Marketing: Targeted messages and promotional content are sent via email to a list of subscribers to nurture leads, maintain customer relationships, and drive conversions. Personalization, segmentation, and automation are key components of effective email marketing.
e. Conversion Rate Optimization (CRO): It is the process of increasing the percentage of website visitors or app users (consumers) who take specific actions, such as making a purchase or filling out a form. It refers to the number of consumers that are converted. This process typically involves creating strategies for improving elements on your site or app and then validating those hypotheses through studying consumer behavior, A/B testing, and multivariate testing.
2. Sharpen Your Skills
A Digital marketer requires a diverse range of skills, some of which are –
a. Content Creation: Enhance your ability to create compelling and engaging content for various digital platforms. Practice writing, learn about storytelling techniques, and familiarize yourself with different content formats, such as blog posts, social media updates, videos, and infographics.
b. Analytics: Understand how to analyze and interpret data to gain insights into consumer behavior, website traffic, and campaign performance. Familiarize yourself with tools like Google Analytics and Google Ads, and learn how to track and measure key performance indicators (KPIs).
c. Search Engine Optimization Tools: Learn the principles of search engine optimization to improve website visibility and organic search rankings. SEO tools like Ahrefs, Moz, and SEMrush, are also essential, enabling digital marketers to explore relevant keywords, check backlinks to their pages, identify related keywords, and analyze competitors' SEO.
d. Strategic Thinking: As a digital marketer, your primary responsibility is to assess the company's current circumstances and discern the ideal strategy. Crafting a comprehensive digital marketing strategy demands intensive research, meticulous planning, and resourceful execution from the digital marketing manager.
e. Copywriting: To become a digital marketer, you must understand how to establish a unique tone and voice for the brand to resonate with the target audience, whether it be through curated social media posts, mail advertising, promotional video scripts, long-form blog articles, or landing page language. The aim is to create a distinct brand experience for the consumers so that it is both memorable and relevant to them.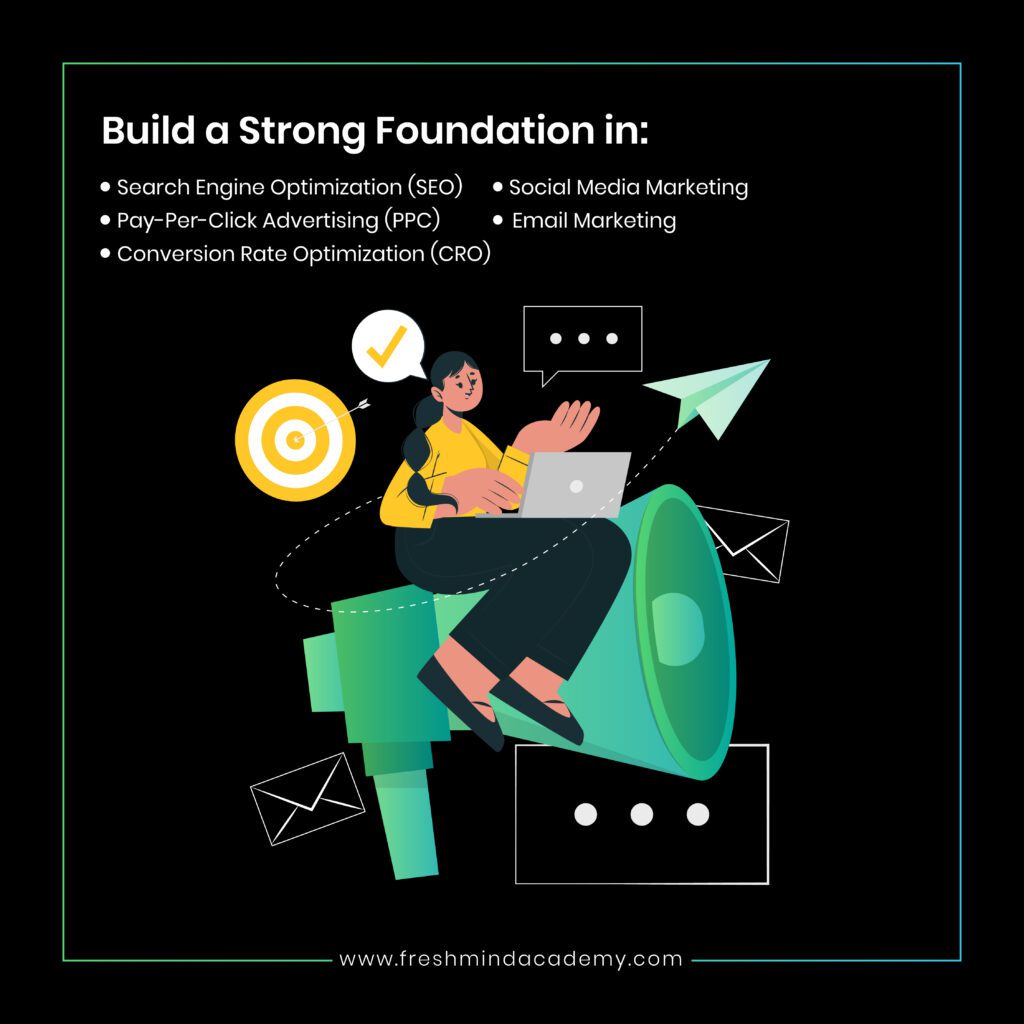 3. Gain Practical Experience
Practical experience is crucial for honing your skills and demonstrating your expertise.
a. Internships: Internships with digital marketing agencies, startups, or established companies will provide you with real-world exposure to different facets of digital marketing and help you network with industry professionals.
b. Freelancing: Offering your digital marketing services on freelance platforms (such as Upwork and Fiverr) to gain practical experience while working on real projects will allow you to showcase your skills, build a portfolio, and potentially land long-term clients.
4. Stay Updated and Network
Digital marketing is a constantly evolving field. If you want to become a successful digital marketer, you have to stay updated with emerging trends, and industry news, attend webinars, conferences, and workshops, and join professional communities such as LinkedIn groups or marketing forums. Networking with industry professionals can open doors to new opportunities, provide valuable insights, and help you stay ahead of the curve.
At the same time, remember that digital marketing is a field that thrives on creativity, innovation, and the ability to think strategically. It's important to continuously learn and adapt to the always-changing landscape of the online world. Embrace new technologies, tools, and platforms as they emerge, and always be open to learning from both successes and failures.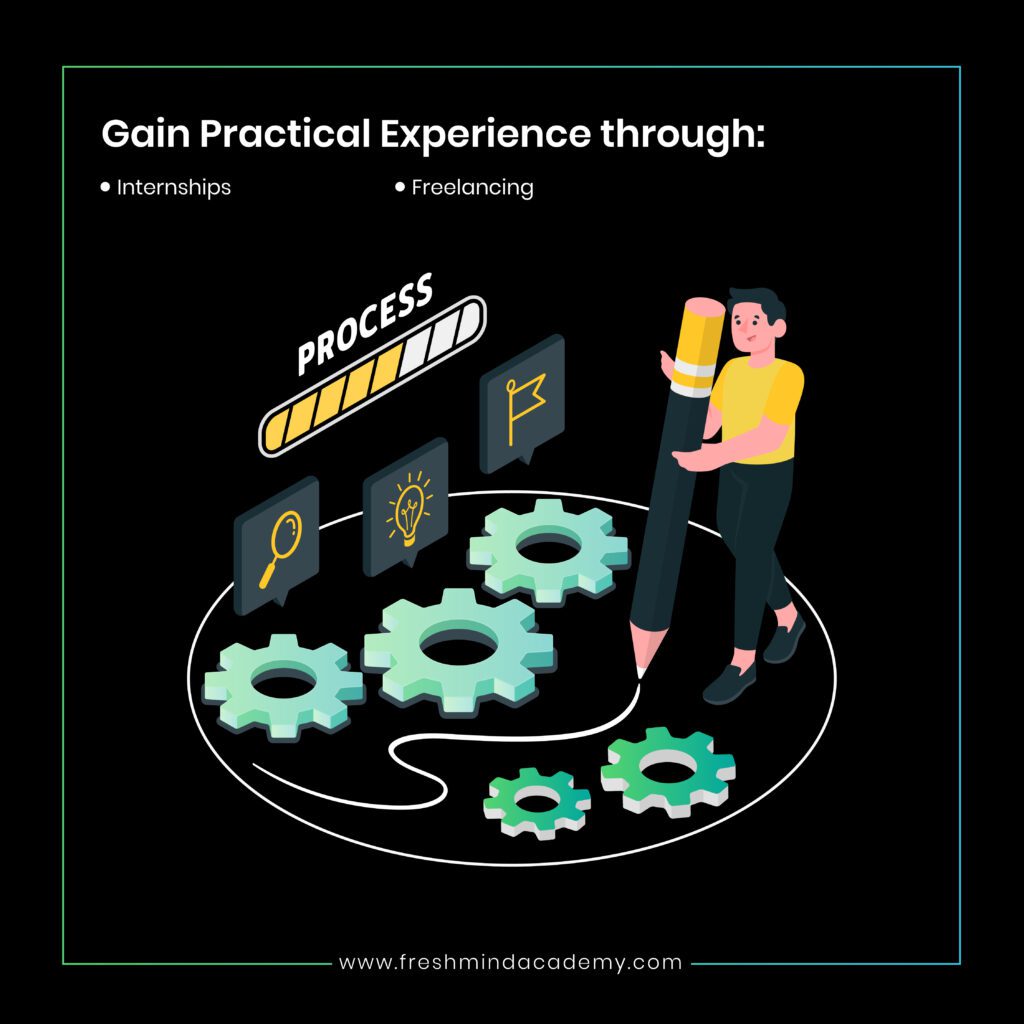 Conclusion
Becoming a digital marketer requires continuous learning, adaptability, and a passion for staying at the forefront of technology and marketing trends. By understanding the digital marketing landscape, developing a solid foundation, honing your skills, gaining practical experience, and staying updated and networked, you can pave your way toward a successful career as a digital marketer.
Depending on the kind of courses and projects you start with, you can become a digital marketer, open to work, in less than 12 to 16 weeks! Fresh Mind Academy, the best digital marketing institute in Trivandrum, offers an excellent Professional Certificate Course in Digital Marketing. We cover foundational and in-depth concepts in digital marketing, in addition to providing placement assistance. If you have any queries about the course, contact us at +91 628 200 3310 or write to courses@freshmindideas.com.